Blame foreigners first
This strategy is always the companion of aggrieved nationalism. It can be seen in the announcements presented last week by Australian government in Migration and Citizenship area. Australian Government debt is increasing and unemployment rate has increased. The Australian government is under pressure in many aspects. Financially, the mining boom has long gone, the only business sector which is still active is construction and housing affordability is a big concern at the moment. So, Instead of finding a proper solution, the easiest way in this competitive political environment (which Prime Ministers not only need to win over opposition parties, they need to win over other the backstabbing members of their own party), is to blame foreigners first.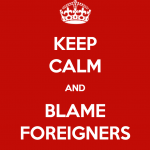 Last week's announcements of changes in 457 visa program and occupation lists and new Australian citizenship requirement can be seen as political decisions and movement to buy votes of Australians in the next election. This can be seen as an advertising show for that part of community who might not be aware of the meaning of changes (or might be supporter of right wing political ideas of people like Pauline Hanson and one nation party).
In a past article in our website, some of the aspect of political movement of Immigration Minister, Peter Dutton for seeking what the Labor opposition calls "Trump-like" powers to target foreign nationals, has been discussed. Everyone should understand that this country has been built by Migrants and Migrants like the Prime minister's or Immigration minister's fathers and grand fathers and grand grand fathers who did not have a vision to come to this country and close the door of this country to others after they entered. They tried their best like other Migrants to build a community that everyone could live peacefully under one flag called Australian flag.
Without doubt, Australia is one of the best countries in the world and All of us Australians need to take care of this country to be able to keep Australia at the top ranking of best countries in the world.
Without considering emotional and humanity parts of  a decision for a nation, all governments in the world can be seen as big businesses who wants to generate funds to support their citizens. So, the business side of every government is to generate more income and to reduce spendings and probably reduce debts (If there is any). Australian government is in a big Debt at the moment. This debt is increasing every minutes.
Also the unemployment rate has raised recently and according to Australian Bureau of Statistics, unemployment rate raised from September 2016.
It has been promised by the politicians in the last elections that future Australian Government by their party (if they win) will try their best to reduce Australian government debt and unemployment. It is expected that the current Australian government authorities to try their best and plan and act in the way that they promised. Separating foreign nationals who serve Australian community and blame them and punish them is not the proper action to overcome the above mentioned challenges (Remember that non-Australian citizens cannot vote). Temporary visa holders like 457 visa holders and Migrants (permanent visa holders who will be punished by new citizenship requirements) are contributing to the Australian government by the taxes they pay. They also do not have the right to use governmental benefits and Medicare. It has been discussed in a past article about visitor visa for parents (Click here to access), that having a person who spend in this country for a long term is like having a long term tourist and goal of every government in the world to have as more tourist as they can. The simpler solution could be introducing some changes in social security benefit schemes and reduce the amount of misusing that schema. However, every Government who wants to reduce the costs by limiting social security services to small number of citizens who misuse the system would lose their votes and current government is completely aware of this point.
Were changes necessary?
The answer to the above question is definitely YES. The role of every government is to evaluate the current programs and present new solutions to fix the issues of that program. The 457 visa program was misused by some individuals and some changes needed to be introduced to keep integrity of 457 visa program. Also, in case of the Australian citizenship requirement, maybe some changes needed to encourage individuals to engage in Australian community by having a better understanding about Australian society. However, the announcements and the planned changes are far more than what was required.
The most important part which was ignored by Australian government is that the future planned changes should not affect anyone who planned before. The announced changes last week was completely unfair and injustice in some extents. For instance, Some occupation has removed from the list of approved occupations for 457 visa program and DIBP announced that visa applicant who applied in those occupations need to withdraw their applications, otherwise their applications would be refused. Also, some individuals spent their time and money to prepare the requirements such as skill assessments, English exams and many more pre application requirements for s In another instance, the announced changes in Australian Citizenship requirements which require the individuals to be in Australia for four years on permanent visa to be able to apply for Australian citizenship is none-sense.  Australian Government announced that the changes in Australian Citizenship (Which is still in public enquiry process and might be passed in the parliament at the end of 2017) will be in effect from the date of announcement which is 20th of April 2017.
It is like announcing as an urban planner that Marsden street in Parramatta planned to be one way from North to South in the next 9 months and from today, whoever drive Marsden street from South to North will receive a penalty notice. Also the cars which was parked here in the South to North lane (maybe from long time ago), would be destroyed. 
It is expected from Australian Government to reconsider the changes which was in effect from last week and announced to be done in the next few months and at least make those changes with consideration of the best options for future of Australia or individuals who already in the pathway to apply for those visas and/or Australian citizenship.
Amin Farazdaghi
26 April 2017